Sep 12 2019
A decade later, can we now forgive (and appreciate) Adebayor?
Time is a great healer. Whatever your footballing affiliation, I'm sure that now with the benefit of hindsight, we can now all agree that Adebayor's celebration against Arsenal on 12th September 2009 is the funniest moment in Premier League history (only possibly rivalled by Laurent Robert knocking out his own teammate with an errant clearance). While pretty much everyone can now see the humour in Adebayor's wild celebrations, not all Arsenal fans have forgiven him. The mass exodus of players during the mid-to-late Wenger era turned many of our cult heroes into pantomime villains, and particular vitriol is reserved for Adebayor. It's easy to see why; he left the club acrimoniously, ostensibly for financial gain, celebrated maniacally against Arsenal and then wound up playing for Spurs. It makes utter sense why Adebayor is a pariah amongst the Arsenal fanbase, but I have something to confess: I love Adebayor.
Breaking down the celebration forensically, each element is individually hilarious and in tandem they create a masterpiece. Adebayor was by no means a slow player, but he did have an occasionally lethargic style of play, so anyone who watched him regularly was taken about by the sheer pace of his sprint to the other side of the pitch. His velocity means his team mates actually give up running after him, and even the camera is having a hugely difficult time following him as he screams at the top of his lungs before executing a perfect knee slide right in front of the seething Arsenal fans.
When you see the still image of Adebayor celebrating in front of the fans, it actually looks like a sort of Renaissance masterpiece. Him kneeling triumphantly as the fans are foaming at the mouth and throwing any available object in his direction (someone even threw a plastic chair!) but somehow all contriving to miss their stationary target.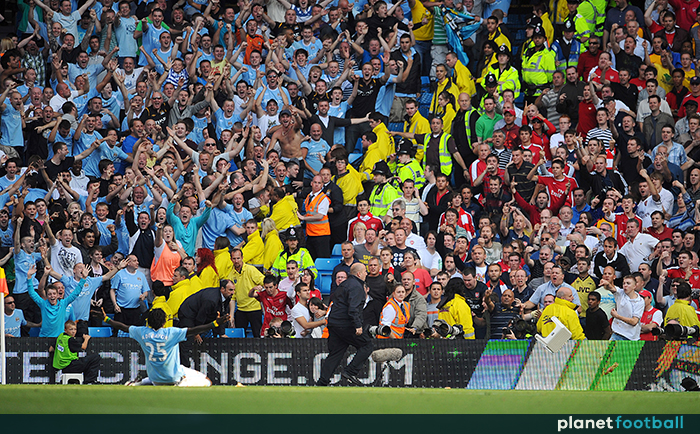 In the immediate aftermath, there was all the usual sort of condemnations, with pundits sternly saying "that's the kind of thing we don't want to see in the game" when deep down we know it's exactly what we want to see in the game. It was pure theatre which was somehow exceed by the explosive reaction to the celebration after the game. People were calling for Adebayor to receive a five-match ban for the incident, which actually overshadowed the fact Adebayor stamped on Robin Van Persie's lip during the game. There were veiled (and unveiled) threats made towards Adebayor about what would happen to him upon his return to the Emirates. Impressively, Adebayor had made himself persona non-grata in the red half of North London.
I initially was one of those fans who was infuriated with Adebayor, especially when he joined Tottenham Hotspur, but over the years I've found my stance softening. I saw similarly acrimonious exits from Man City and Spurs sandwiched between a bizarre, semi-successful spell at Real Madrid and concluded that Adebayor was a misunderstood character. It had become evident that when he was loved and trusted, he would produce the goods but when the doubts about him began to creep in at a club, the results were explosive.
With the rise of social media, his off-the-pitch persona became more accessible and we were able to see a man who was actually contrite about some of his actions (although he as wryly celebrated the anniversary of that celebration on Instagram) and he's spoken eloquently on matters such as the pressure African footballers face to repatriate funds back home, and the terrible attack the Togolese national team suffered. I have to whisper it, but Adebayor became eminently more likeable to me. There's still the soap opera lifestyle, which peaked with the frankly ridiculous saga where he accused his mother of casting juju on him, but even that was hilarious.
I feel like this fall upon deaf ears, but I think ten years on from that ludicrous celebration, some of the Arsenal fans who are still angry at him can now begin to let that anger go. When I stopped despising Adebayor, I was able to appreciate exactly how hilarious he is (for example, the singing in the tunnel before the game, or the "I'm still a baby boy and I'm enjoying my life" interview that went viral). These are sensational moments that no football fan should be missing out on.