Sep 12 2021
'FUCK THE SYSTEM, FUCK THE CISTEM' – Pink Lemonade by Mika Oynx Johnson
If the title is one you have to read a few times to take it in, you'd definitely benefit from making time to see Pink Lemonade at Bush Theatre. This play is as much about who you are, as it is about the characters it includes. Mika welcomes us into their world; a world of reflection. Autobiographical pieces are often reflective in their very nature but this is a literal mirror. Whether what you see is comforting or not, will depend upon how you intersect with the story. It's political, emotional, sexual, personal, soulful and it's like nothing I've ever seen before.
When I took my seat in the theatre I felt like I'd walked into the latest instagrammable café; the room was filled with abstract pink, velvet curves. As soon as Mika began to interact with the set, it came to life in the most intimate and mundane ways imaginable; from a barbershop chair to the depths of a woman's vagina. Mika's movement was an expression and representation of sex, feelings and pure energy; ushering us from scene to scene. The lighting and sound added layer upon layer to Mika's world; a passionate space that glows, throbs, whines and explodes.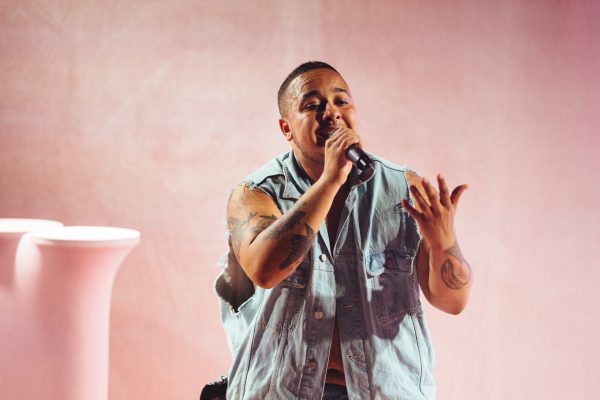 This is a play by an award-winning director, who also performs as a drag king. The music and production are from someone who is used to opening for the likes of Rakim and performing original pieces at Edinburgh Fringe Festival 2019. Pink Lemonade is a production from The Queer House that explores sexuality, masculinity and Blackness. It is a truly immersive experience and an invitation to question, learn, feel and relate; to be seen and to see. Within the play's portrayal of conflicting societal labels, definitions and constructs is a tale of oneness. Humour is the rhythm of expressing the joy and pain of Mika's relationships with others and with themselves.
A play full of spirit and culture, filled with comforting familiarity and potentially discomforting acknowledgment of privilege. A sophisticated, hilarious and intersectional reminder that queerness is not a commodity and gender is a construct. With a loud parting message to love yourself radically and fuck the rest!
Pink Lemonade is on until October 1st at Bush Theatre, book tickets whilst you can here.