Jan 20 2020
Interview: A Conversation with FARR
FARR is a new project from London based producer Linden Jay and LA based vocalist Roméo. After meeting at a random studio session in May 2016, things snowballed into an incredible new hybrid electronic project. Linden Jay has a multifaceted skillset that includes producer, instrumentalist, sound engineer and musical director. With a successful solo career, he is recognized for his skill in blending influences of house, dubstep and R&B in track such as "Be Like You" and "Break The Hold". Roméo was identified as a creative talent early in life. He signed to Columbia Records at the age of 15. His soulful vocals combined with his writing talent have led to the release of successful hits such as "With You" and "Light It Up". Both were born creators. FARR manages to break boundaries with a cross pollination of global styles. Their new EP Technicolour includes the track "Paranoid" which is a fearless representation of character. FARR's flawless fusion of electronica and soul reflects the authenticity of both their personalities.
I caught up with the guys to chat about their upcoming album 'Weightless':
How did the FARR project come about?
Romeo: Woah that's a loaded question. Well, basically I have been writing for 10 years in America and I came out here for a change of scenery. Towards the end of the trip I went into a session with Linden and we hit it off. We wrote our first single "Down" that night. I went back to the states and my publishers were really stoked about things. We kept in contact and were sending beats back and forth. One night he sent me one as he was going to sleep, and I recorded vocals that night. By the time I woke up Linden had responded saying this is sick. Turned out that song was "Blades". Pretty soon after that my publisher sent me back to the UK to try and focus. We just ended up hanging out a lot and decided we should do something, but Linden said no.
Why did you say no Linden?
Linden: I was doing another project quite heavily at the time. I was really busy and finding it hard to go to the studio for myself anyway. Its almost like nothing really changed anyway because we just kept making music with each other.
Romeo: My manager just said to me then that if you are going to do this you need a name. Nobody cares about a collaboration of two people you haven't heard of.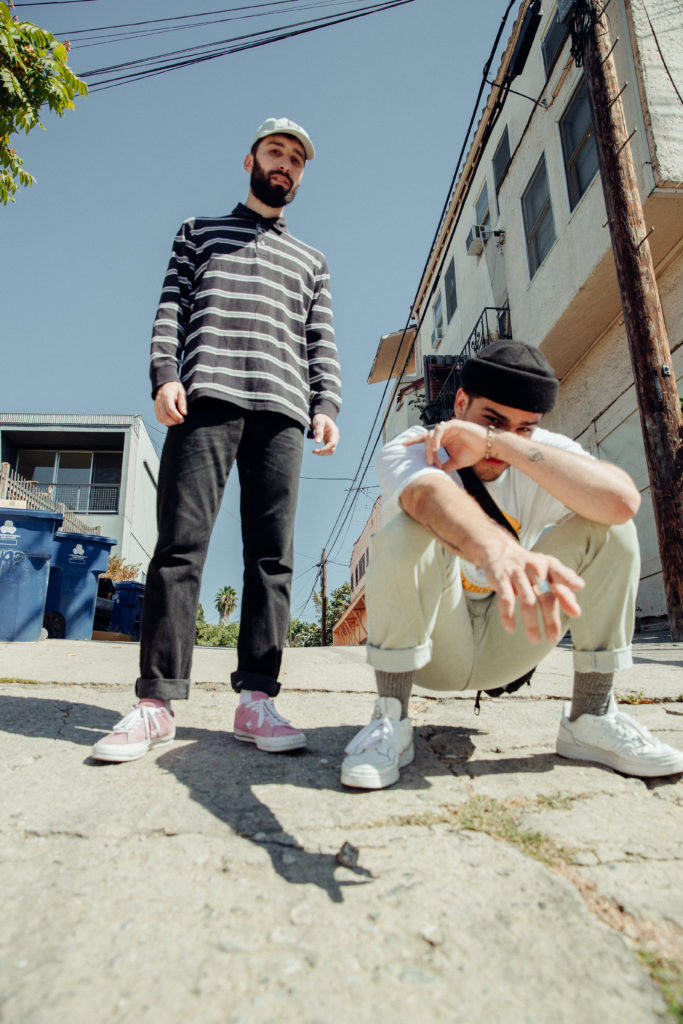 How does it work being on separate continents?
Linden: Every song has a different process. Sometimes I make a whole beat, send it and he will write on it. Sometimes he will make a demo on guitar, with programs, with drums on his own, send it to me and I will finish it. Sometimes I might change some stuff. We just trust the process. If we are in the room together, we will always just write a song.
So there is no script or set process?
Linden: The whole thing is just organic. Where we both meet, is we are willing to throw ideas away and make better ones all the time. Some people I work with do one thing and then just go. Whereas we like write a whole thing and then next day say its trash and not be like emotionally attached to it. For years I got attached to ideas that weren't very good. Then you realise if I spent another day it could have been something better. We are always trying to push each other to do better. You just must trust the process.
Romeo: It's basically a long-distance relationship but in the best way. We can work around the clock too which is great. Except he I must stay up if we need to connect on something.
Do you find the night is your creative time?
Linden: Ya I like when the world goes quiet around me. Its less pressure. "Blades" and a bunch of the best stuff I have made in the last few years has been me chilling in my living room with a laptop, cup of tea and a pair of headphones late at night. The initial start always feels more natural. The spark comes from hanging out by myself with no pressure.
What's the concept of the album?
Linden: It's called Weightless its mainly based around the current state of the world. Through our relationships we feel our friends feeling that weight. We wanted to create this small pocket you can escape to and feel weightless. It's meant to represent a place where you can just shut off. It's a feeling we all strive for.
Romeo: We are both very aware of the noise of everything everywhere. That why we make music, we harness it and flip that energy into something people can feel. We aren't making songs for chicks to dance to we want to make something real. Maybe that's a by product but we are going into our own minds and connecting on our reflection of everything out there. It has never been about being seen or being fashionable for us.
Linden: We are weirdos and finding another weirdo you can be yourself with is great.
Romeo: I will just and scream my head off into a mic for hours. It has just become second nature to be as weird as possible in recording sessions. It's a very trusting way to work and a great way to do things.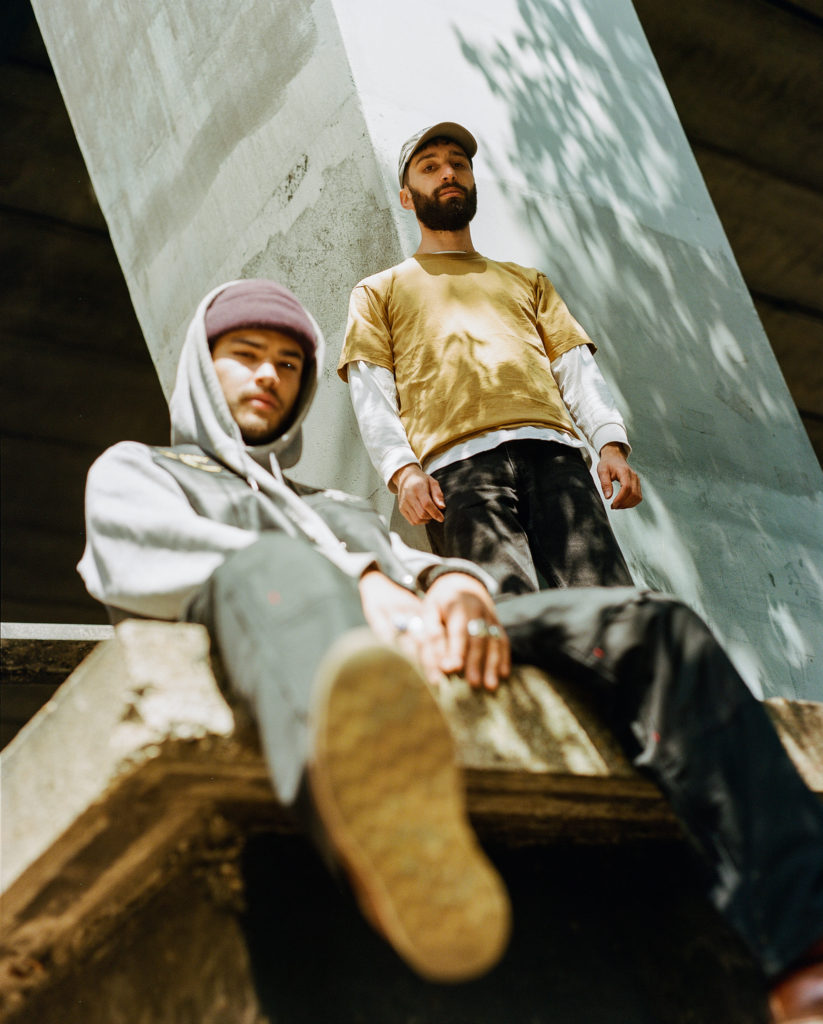 What's behind the name FARR?
Romeo: We were in LA trying to figure it out. I had gone through a big break up for the first time ever. So, we just started hanging out and decided to follow this idea. We did a hike in LA called the wisdom tree. I think Hugh Hefner paid for this trail to be built – interesting fact for you. He doesn't come back into the story though. We woke up at 6am to do this hike with some mushrooms, came back and still hadn't figured this out. We were playing around with some corny boyband names after and came up with Feels About Right. We thought it was terrible like a Simon Cowell band name. Then we abbreviated it, but you can't search it on the internet or get that handle on Instagram. Then Lindens friend Brie said to add an R on the end along with there being an extra silent thing being we live so far away from each other.
Who has influenced the FARR project?
Romeo: Everything man. I grew up with a lot of classical music and soul. A lot of the vocal arrangement comes from a classical background.
Linden: When I grew up in London the whole Dubstep House thing influenced me a lot. I was also listening to a lot of Jazz though. I auditioned for a lot of colleges but then got into Berklee as a drummer but injured my back. I came back to London and worked as a sound engineer and producer. Which then allowed me to link concepts for FARR. I just like good artistry and honest expression.
How was your recent tour in Australia?
Romeo: It was great. I was down there for a long time. Linden came for the last 2 weeks but I was there for a month and a half. We were touring with Hayden James. We have a feature on his album. We did 2,500 capacity venues it was sick. Those were the first live shows we played outside of London or LA. Now we have done Copenhagen, Paris, Berlin and Amsterdam.
What has been the highlight so far?
Linden: The London show was epic it was full of family and friends. We had a technical nightmare, but it worked and turned into a party. Romeo got up on the monitor at the front it was sick.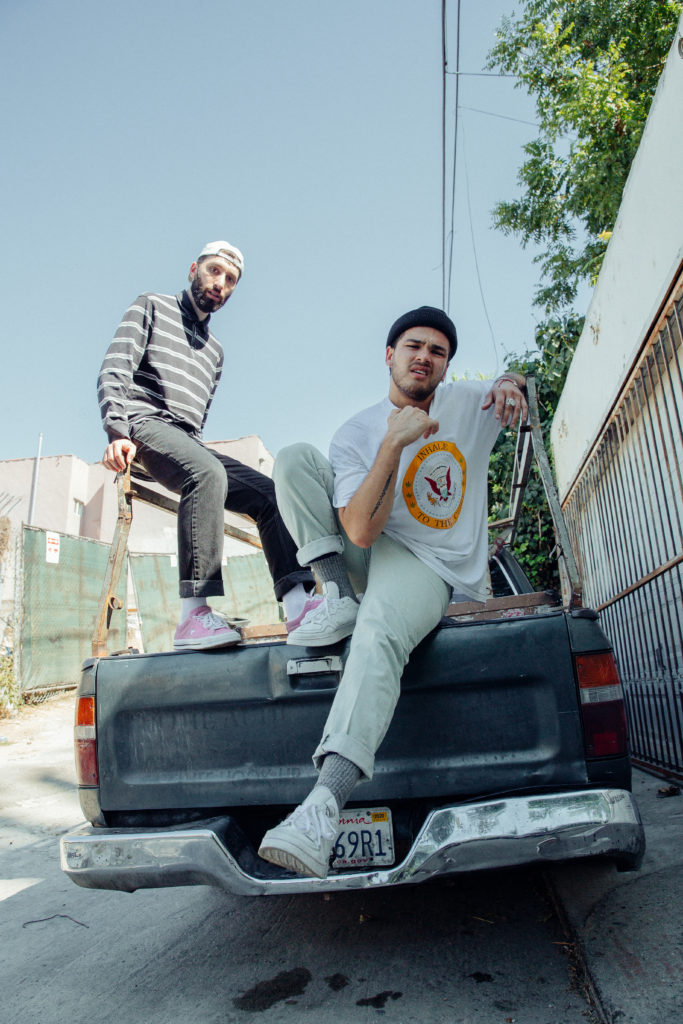 Any collaborations you guys want to do soon?
Romeo: We would love to do something with the Gorillaz or Andre 3000. Run the Jewels would be cool too. Loyle Carner would be another one or J Cole. We don't want to do anything that poppy though.
You are releasing the album through ADA on a distribution deal. How do you feel the industry is going in relation to artists now owning their masters?
Romeo: I think it's going to be a lot harder for people to break through the sound because so many people have access now. Its good though that you don't have to be a slave to a label anymore. I was signed to Colombia at 15, it was great while it lasted but I didn't really get anywhere I wanted from it. Now with this model its much easier for us. My manager and I have the label and then we use ADA as the support system for promotion etc. Its more co-dependent. They depend on you for their cut and you depend on them for the support you need to get your music heard in the right way.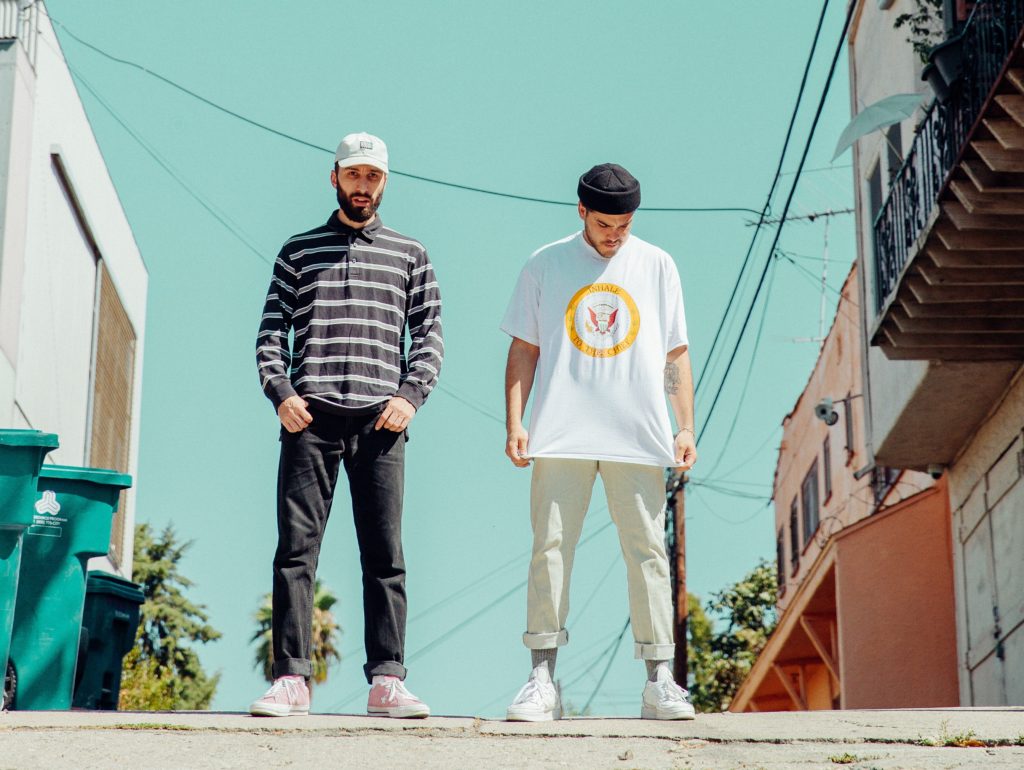 Would you like to sign your own artists in the future?
Linden: Yeah, I mean we just want to make a community of dope people in it for the same thing. We just want to bring everyone in on it. We do little festival nights too. Everyone is always a vibe.
Romeo: Yeah, we really want to build up more and grow it into a brand and a good method of putting out music.
Linden: We just want to stay excited and not end up bitter and boring. We did this far house event people come and watch good music. We want to bring this around the world and have a festival in a mansion. Hopefully each room has a different stage and vibe. We want to hold a big writing camp too so you end up playing at Farr House after.
Romeo: The album comes out in February. We put out singles in December and there is another one coming in January. We are going to start writing some new stuff in the UK in the next week too.

You can listen to FARR's new single, "Heal Me" here
Follow FARR, @farr_music to hear more. You can also listen to FARR on Spotify here

Follow Dave O'Leary @davoleary1