Nov 23 2018
Live review: Yxng Bane lives up to his HBK moniker at O2 Forum Kentish Town
For an artist that used to cover his face, and experience extreme nervousness prior to performing, Yxng Bane has come a very long way in conquering those fears. The manner in which he embraces his stardom is almost fitting given his meteoric rise. From cultivating a core fan-base on the back of his 'Full Moon' mixtape in early 2016, consistent releases of hit songs, including his remix of Ed Sheeran's gargantuan, 'Shape of You', have led to increasing nationwide popularity. It is arguable that Yxng Bane is the most versatile artist to emerge from the UK Rap/Afroswing scene. Not to stoke the flames of rivalry, but his closest competitor in this regard is J Hus. Whilst both can adapt their styles to a variety of instrumentals, Bane has shown his ability to do ballads ('Loving You') and Pop ('Answerphone'). He has been able to hold his own on collaborations with artists ranging from Headie One to MØ, and when featuring, he normally outshines the lead artist on the same song.
Possessing what seems to be bounteous amounts of talent, Bane also has a vital component that separates himself from many others – a strong team. Signed to Disturbing London, a multi-faceted entertainment company headed up by savvy entrepreneur, Dumi Oburota, and home of Tinie Tempah, Bane is able to benefit from the tutelage of a strategically minded collective, heavily versed in the art of being successful. Creative direction and advice from his team which includes his manager, the highly respected G Frsh, clearly manifested into an accomplished performance at O2 Forum Kentish Town on Friday 16th November.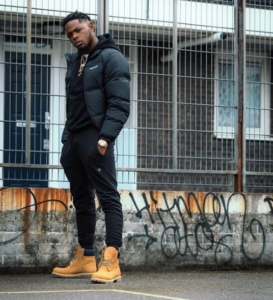 Bane displayed a showmanship not often seen in UK Rap on the live stage, and lived up to his moniker of "The Heartbreak Kid". His initial performance of 'Squeezeface' was followed by him walking to the front of the stage, chest puffed out, as he stood silently, oxymoronically inducing screams from the female dominant audience in the building. At different points throughout the evening, Bane engaged in similar scream-inducing behaviour, teasing to remove his top, gyrating to his own music and even serenading a girl on stage during his rendition of 'Needed Time'. Bane did not allow energy levels of the crowd to abate during the show, his set structure conducive to an enduring vivacity amongst the concert goers. The one lull may have been during 'Better', the slow and reflective outro to his "HBK" project, yet immediately after, the entrance of D Block Europe sent the audience into a new level of euphoria, performing their own material followed by 'Gucci Mane' alongside Bane.
A highlight reel of hits means that Bane is never short on sing-a-long material, and his diverse array of sound ensures that the show remains fresh. His performance of tracks like 'Fine Wine', and 'Shape of You', lent to his "sweet boy" nature, beginning the latter in acapella resulting in further crowd engagement, however his "trappier" songs like 'Froze' and the recent 'Slip N Slide' provide a reflection of the harsh surroundings he was raised in. The up tempo and mainstream tracks, 'Answerphone' and 'Your Lovin'', appeal even to those that shy away from Pop music to preserve a certain machismo associated with disliking softer songs. His finale of 'Rihanna' and 'Vroom', songs that are both further evidence of Bane's ability to create sensational crossover smashes, capped off a breathless show which solidified his status as a budding superstar in UK music.
His assured stage presence, and command of those in attendance was what one would expect of a seasoned performer, not a twenty two year old whose career is still relatively embryonic. Key moments throughout the night, showed Bane's maturity, most notably during 'Diamonds'. The DJ's use of a prolonged version of the instrumental led to his only other guest of the evening, K-Trap, beginning his verse too early. Bane, calm and collected, managed to resurrect the situation, putting his arm around K-Trap, and what seemed like telepathic communication, translated to him that he needed to restart his verse. He handled the pressure with ease, proving that he can deal with difficult situations, plenty of which he will encounter going forward. He clearly gains pleasure from sending his fans into a frenzy, and although some of his American style chants could be avoided, it didn't seem to have any adverse effect on the reaction he received. Girls who attended the gig seemed to be in a constant state of delirium, and this was no accident – Bane was able to manufacture such an atmosphere very intentionally through careful preparation and execution of his personal vision for his live show.