Sep 4 2019
Interview: A Conversation with Electronic Soul Artist, Louis Mattrs
This summer, Brighton based producer Louis Mattrs delivered his new single "Midnight". Over the last few years Louis has experienced impressive global success. After his mixtape surfaced on YouTube in his final year at university he was picked up by Chase & Status. This resulted in the first release from their 2013 album, Brand New Machine, being "Lost & Not Found" featuring Louis. He has gone on to spark a wave of interest in the US with Meek Mill using Louis's "War with Heaven" on his album trailer video "Dreams Worth More Than Money". He has also recently collaborated with G-Eazy on his latest platinum selling album "The Beautiful & Dammed" on their track "No Less" featuring SG Lewis.
Along with collaborating with some of music's modern heavyweights he also released his highly acclaimed first album "On the Rocks" in 2017. I met Louis to talk about his new single, his career so far and his plan for the future.
So Louis what are you up to now?
I recently released my single Midnight which I'm really happy with. I think it has helped me find the genre I want to explore, being electronic soul. If you can call that a genre. I've been doing some song writing for other artists too and I moved to London from Brighton. So, it's been a really busy year so far.
I read recently you played for the Brighton youth set up. Why the change to pursue music?
I always wanted to be a footballer when I was growing up. I was lucky enough to play for Brighton and then Lewes. By the time I got to 18 though I had sort of had enough of football. I took some time out after college and I asked myself what I like doing. The answer was making beats so why not do sound technology. I took up song writing and singing in university then. Even though I was trying to be a sound engineer but didn't find it as much fun as song writing.
Towards the end of your university degree you got picked up by Chase & Status. How did that come about?
I was releasing beats on YouTube. It was the days of type beats where you make beats in the style of certain rappers. I think I was doing ones in the style of Drake back then. Rappers would come along and ask to use them after hearing them. They are all taken down now because they are shocking. But that led me to doing R&B covers and I got picked up by my management Insanity. I wrote that song and it got passed to Chase & Status and next thing they decided the song was going to be the first release of their new album. I was like oh my god. I ended up finishing university at 21 and went straight on a European tour with Chase & Status. It was mental! The best time of my life. I went to so many places though that I can't even remember them all.
Did you learn a lot from the experience?
I did but I wish I was more prepared. I really jumped into the deep end. Playing in front of 50,000 people every other week. It was mad.
What were the highlights of that tour?
It has to be Glastonbury. That's the one for everyone that is a must do festival.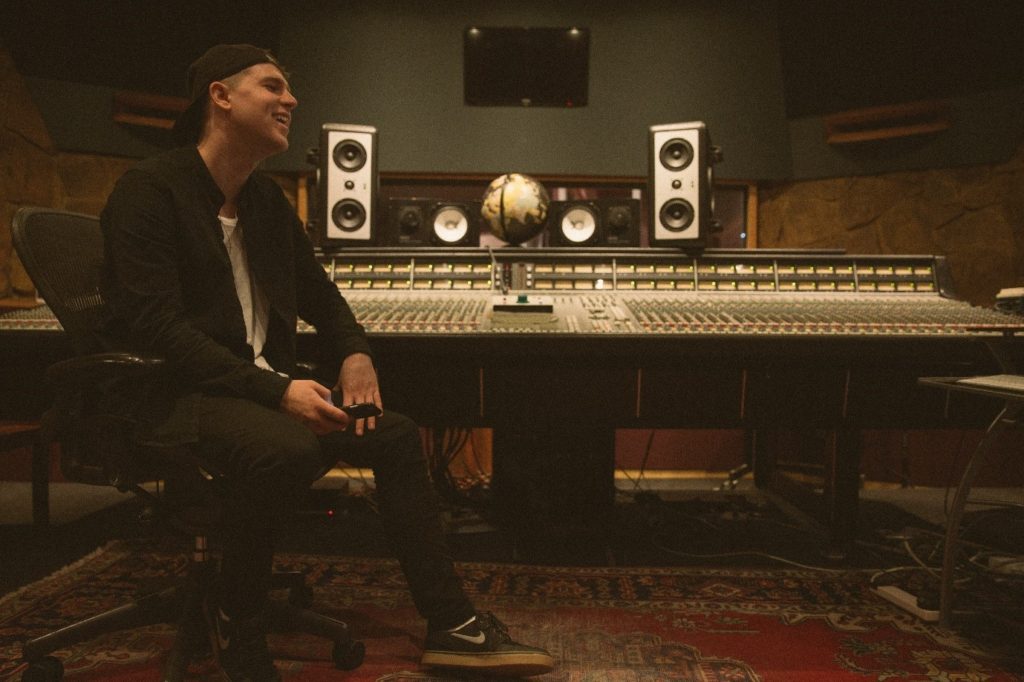 From that you really seemed to establish yourself as a collaboration artist/producer seeing success with Meek Mill, SG Lewis and G Eazy. What led you to explore a career as a solo artist?
I think I just liked them both as much as each other. I thought I can do both so why not. I just enjoyed fully making something myself where I produce, sing and write. It's a really satisfying feeling, I guess. But now I'm doing a lot more production it changes from time to time.
What is it like doing everything yourself compared to previously?
Its very hard. That's why sometimes I get a friend in to bounce ideas. You never know when you work on your own. You need someone there giving you feedback. Its so helpful so I try to do that quite a lot.
Since your EP Slow Waves it seems you have found your sound. Especially in the latest releases "Midnight" and "Dynamite". How have you found the transition? Do you feel you have grown as an artist?
I have figured out what songs people gravitate to. So, I just make a shitload of them. I've just got the feedback of certain people and there tends to be a common theme. You must listen to your feedback. If people like them fuck it give it to them.
Do you ever just want to make something totally random?
Luckily the songs I'm making now are my favourites to make so I don't get the urge.
"Midnight", your latest release, can you talk us through that song?
I had these piano chords I came up with months ago. I put it on my Instagram and asked people who should I get on this song. Loads of people replied but then I said I'll use it myself. The song is about the feelings you get when it comes to the night time towards your partner. Everyone will have rows during the day but when it comes to evening something comes over you that you can't sort of help. It's about that I guess.
What is your writing style like?
I never start with drums or anything. I normally start with a melody usually with piano chords. I get a hand-held mic and sing absolute gibberish. You find random melodies that come out of that. It's the best way I find for me. I used do a lot more lyric heavy songs and try fit them into melodies but now I just blab into a mic and fit words into it.
Who are you listening to these days?
Lucky Daye – a new Soul/R&B artist
James Vickery – as I work with him quite a lot and he is amazing.
I listen to so much random stuff on Spotify.
You seem to have large streaming numbers in North America which is often seen as tough for UK artists to achieve. What do you think has contributed to this?
The genre definitely helps. My genre is more geared towards America. People in America probably prefer this genre to maybe in somewhere like Devon. Spotify playlists have also pushed me to an American audience. The collaborations have helped me out in the states too especially with G Eazy. The genre is the main one though I guess.
What do you think of the UK R&B scene now? There seems to be a strong revival taking place.
I think nobody really cared for a while unless you were a huge R&B fan. I think people wanted to listen to other genres coming out of the UK which is fair because they are all banging. A lot of UK artists must go out to America now which hopefully it works for them. It's a shame though you must go there to try to make it big.
Do you feel like you have cracked the US?
No definitely not cracked it. Id like to go out there to work you know to see what happens. Id like to try it. I went to LA and New York when I was younger and loved it. I think it would be an amazing experience.
Is there anyone in particular that you would like to work with now?
I love to work with new people that haven't had as much out because I like finding random people. I would love to make a song with Calvin Harris just to see what we would come up with. I think we could make a banger.
You recently released through AWAL. What is your take on the industry today and artists trying to retain their independence?
Its so much easier to release things now. People are discovering that you don't just need a label to be big. I mean, it definitely helps, but you can do it on your own. Its all just a bit of luck at the end of the day. You have got to be a bit lucky and have a banging song.
What's your favourite track of your own?
I think it's between "Midnight" and "Dynamite". "Pink Lemonade" also. I can't stop listening to Body by Loud Luxury these days. Its so catchy.
What advice would you give to artist starting out?
Make as much music as possible. From that you learn so much. You train your ear. Keep working hard. I was so lazy so try and not be lazy. Its crucial. Network too. It's the key. Go to the parties and bring your mates because there's a lot of industry chat.
What has been the highlight of your music career so far?
Must be Glastonbury. Hearing my song on the radio for the first time is another highlight. We were sitting in my university living room me and 10 of my mates very drunk. It was great.
What do you enjoy most about the music?
Making the music 100%. Its about enjoying the unknown. I love the creative sides of things.
Amongst your fans you can count Kylie Jenner. How do you feel about that?
Its mad. A while ago Kylie posted something about her new lip kit on Instagram and my song was in the background. Loads of people just started shazaming it then.
What is the plan for the future?
EP coming soon with Midnight and hopefully 3 more songs.
Any more big collaborations coming?
Maybe………


Follow Louis Mattrs, @louismattrs to hear more. You can also listen to Louis Mattrs on Spotify here

Follow Dave O'Leary @davoleary1